Keselman Construction Group offers a unique, 6-step renovation process that begins with a simple conversation and ends when you're happy with the completed project. We stand behind our work by not only including a warranty, but also with the quick responsiveness and accessibility of our team. Scroll down to see more details on each step of the process and how we continue to exceed our clients' expectations.
1) Initial Conversation & Consultation
The initial conversation and consultation we have with you is the beginning of our relationship. Whether you know what you want or you're still thinking it through, our Estimate Consultant will meet with you at your home or our office and walk you through the process. If a project requires an architect and/or engineer, we can connect you with professionals we have worked with before. If your project requires a designer, we have a wonderful designer on staff, but we'll gladly work with yours as well. We will also do our best to provide you with an approximate estimate for your project based on your ideas to make sure it's within your budget.
We begin the design process with asking questions, and listening to what you are looking to accomplish with your renovation project. This helps us establish some parameters and direction for the new design, and get the idea of the style and feel you are looking to accomplish. Next, our designer will produce a floor plan layout and 3D renderings to help you visualize your new space. There will be an open discussion and an opportunity to revise the designs before they are finalized. The goal is to design a space that is both functional and a true expression of your style.
Once the designs or blueprint are completed, we send the drawings to necessary supplier for accurate material prices. Meanwhile, our estimating team will assemble a detailed proposal including all the necessary labor scope of work and allowance budget for finish materials. The estimating process typically takes two weeks or less, but it's worth the wait because our clients routinely express how thankful they are that our estimates are thoroughly detailed and easy-to-understand. 
When we have compiled all the necessary information, we will email the estimate to you and then schedule a follow-up to review it and make any changes necessary. Finally, we prepare a contract and draw schedule based on the latest, approved estimate.
After the contract is signed and the down payment received, the scheduling begins! Before construction, all the finish materials need to be selected to ensure timely ordering. We highly recommend working with our designer and our preferred vendors to expedite the process and get you pointed in the right direction. We will also assign a Project Manager to your project and perform a job site walk through with both the Project Manager and the Estimate Consultant present. Finally, our team creates a timeline in our project management software and includes you in the communications so you can follow the updates and work process.
Once the required materials arrive and the necessary permits are obtained, we can begin construction. The Project Manager will facilitate communication between you, our suppliers and professional tradesmen to make sure things run smoothly and the timeline is followed. Whether you choose to work or stay at home during construction, we'll do everything possible to minimize the disruption to your life. However, sometimes the work being performed does require you to vacate the premises or lose function of a portion of your, but we'll let you know in advance LONG before that happens.
6) Completion & Quality Assurance
At this point, our clients are quite excited because their dream project is nearly complete! Once the majority of the construction is complete, your Project Manager will schedule a walk through with you and create a punch list documenting any incomplete/unsatisfactory items. Once the punch list is compiled, the touch-up crew will address every item. Your warranty begins after we complete this process.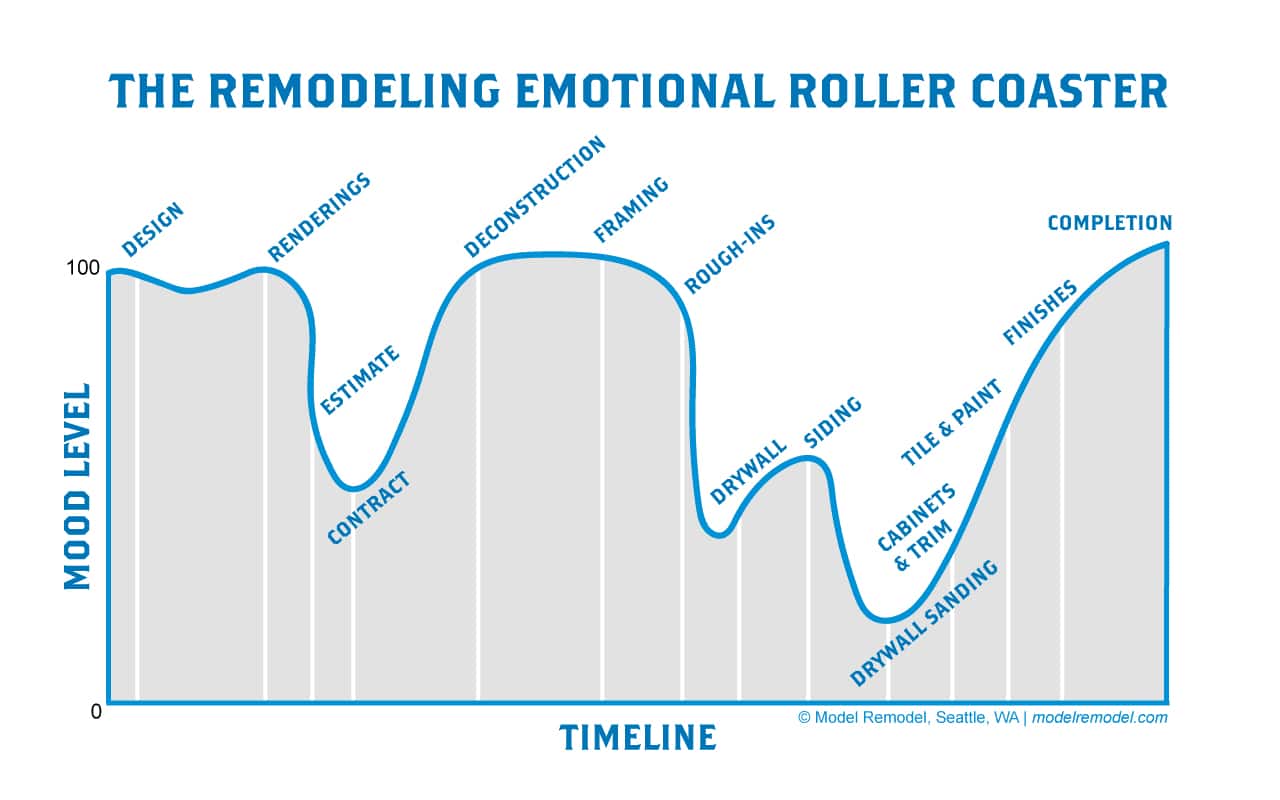 Remodeling or renovating your home, or even just a small portion of it, is both exciting and a little unnerving for many homeowners. We work very closely with each of our clients and do our best to reduce stress and mitigate feelings of uneasiness with good communication and proper planning. However, we've learned over the years that our clients moods often change in direct correlation to where we are within the project. We then found this graphic from a remodeling company in Seattle (credit: Model Remodel, Seattle, WA) that perfectly illustrates the emotional experience of many homeowners…even if they are thrilled with the completed project.
Why do we share this with you? Because it's important for you to know that we understand your feelings throughout the entire remodeling process and will do everything we can to help you through each and every step!